*a little mmuahx to my friend. faber. letih2 die ajar ak, xkan x kasi kredit kan.
Looking for any software to download videos from flash based site

such as YouTube, LiveLeak,

RedTube

, n blax3 whatsoever? *Google je la* Fine. You can google it but what is the real point if you actually just need a few steps and manage to get those video immediately? It kinda questioning through my ass because

this way is much better than using any software

, but still can't mute my own ears since so many people asking the software instead of using their own

dick

finger.

Ok, like almost of my post. I prefer to tell detailedly but easy to understand because i am sharing knowledge, not just a copy pasted article and claiming it is mine mine mine. . seriously until now i cant stop blaming to those people blogging the fake hadith and hopefully the copied-pasted-posted yada2 will be copied again. This b just cant stop ranting. Haha. *briefing conts* When you view a YouTube video or any flash based video,

it is basically already in your internet cache

. you just need to drag it into a folder and rename it with a new extension such as 'flv'. Make sure u have downloaded the k-lite mega codec before. Try emptying your internet cache, then view the videos. after viewing go to your internet cache:
C:\Documents and Settings\<yours>\Local Settings\Temporary Internet Files\
sort descendingly the size column, videos usually have bigger sizes. then drag these unknown files into a folder in your my documents. And change its extension into '.avi', '.flv', '.mp4', dsb.
OK kids. Can't understand the above lullaby? Listen your papa. Just follow these steps.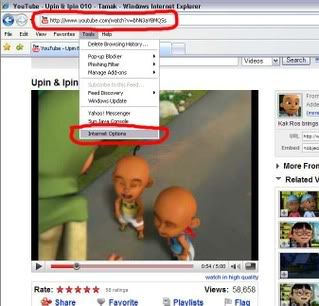 1 -

Use Internet Explorer as the browser

. Just let the video playing until the entire video has been streamed. Then click

Tool > Internet Options

. A new window will be pop-up later.
2. Under General's Tab, click the

Setting

button under Browsing History.
3. Click the

View Files

button
4. This is the temporary files of in your cache actually. Just noticed the weird file but
it has the same id with the YouTube's video URL id.
5.

copy the file

. (YouTube usually has the prefix with 'get-video'
6.

paste the file

in your desktop sudey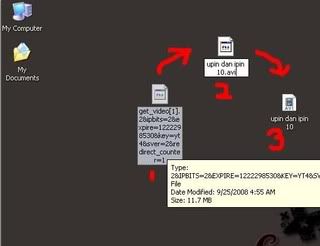 7.

rename the files

into whatever lah but under

flv extension

. such as 'upin dan ipin 10.flv' not avi k

8.

play

the video. yuhuuuuu
DISCLAIMER:

GOOGLE CHROME

WORKS VERY WELL!! USE THE SAME METHOD BUT NEED A LITTLE BIT LONGER. STILL WANT THE SOFTWARE?
UPDATED. USING MOZILLA FIREFOX. SIMPLY TYPE 'ABOUT:CACHE'. CREDIT TO JOMPHP.
UPDATED. Still not the best method. Better using new version of IDM or Orbit. Damn super speed.